WhatsApp testing lock, preview features for voice messages
The new lock feature will let users lock the recording button on the on position, negating the need to keep it held down when sending a voice message
It looks like WhatsApp is testing a new feature on Android that would make it easier for users to send voice messages. According to WABetainfo, the company is currently testing a 'Locked Recording' feature. As the name would suggest, the feature would let users lock the microphone on, without the need to keep it held down.
As per the screenshots shared in the report, users will have to swipe the recording button upwards it orders to lock it. To recall, users currently have to press and hold down the recording button in order to send a voice message. The report also added that this new update will allow users to preview their voice messages before sending them. It is not yet known when these features will roll out to general users, but it should be available with the next update.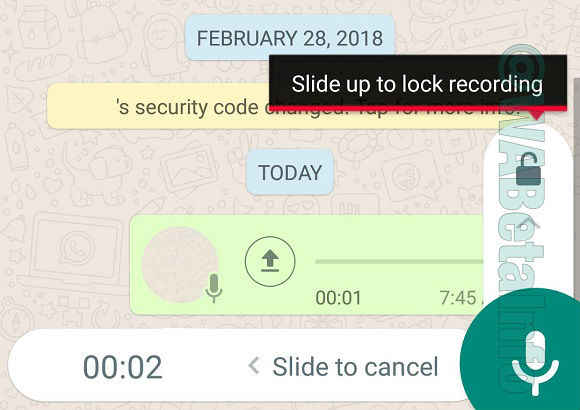 A few weeks back, Facebook CEO, Mark Zuckerberg announced that WhatsApp now has 1.5 billion monthly active users, who are sending nearly 60 billion messages each day. He also said that WhatsApp's story-sharing feature was the second most popular in the world, only behind Instagram.
Earlier this year WhatsApp rolled out WhatsApp for Business, a separate app aimed at business users. These accounts can only be created by legitimate businesses using a mobile number that belongs to that particular business. Further, the same number cannot be being registered as a regular WhatsApp account and for WhatsApp Business at the same time. If the same number is used for both, the user will be prompted to deregister from one of the apps